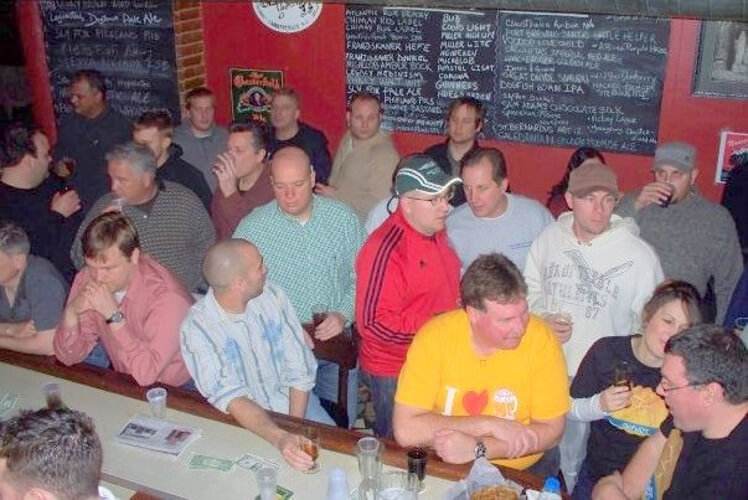 It seems like just a few weeks ago when we encountered Friday The Thirteenth and, best of all, the beer event that tops all others,
Friday The Firkinteenth
at the
Grey Lodge
in Northeast Philadelphia.
The only beer festival dictated by the calendar,
FTF
takes place THREE times this year, the result of the quirky leap year calendar. When we last told you about FTF, it was January, and tomorrow, April 13, brings another spectacular celebration of cask beer, served elegantly from firkins atop the bar, the mini barrels holding just 5.5 gallons of fresh, gravity-poured deliciousness.
This month's lineup is as strong as ever, numbering 20 rare or specially-brewed-for-FTF beers, from both local and cult-favorite breweries:
Current Cask List
Cricket Hill Hopnotic IPA
Dark Horse Crooked Tree
Dock Street Rye IPA, dry-hopped
Dogfish Head 75 Minute IPA
Flying Fish Farmhouse
Free Will Citra Pale Ale
Ithaca Nut Brown
Manayunk Oatmeal Stout
Nodding Head TBA
Philadelphia 1892 Stout
Prism White Lightning
Ruddles Country Ale
Sly Fox Chester County Brown
Sly Fox Oatmeal Stout
Sixpoint TBA
Stoudts TBA
Troegs TBA
Victory Headwaters Pale Ale
Yards Brawler
Yards ESA
The beers start flowing at NOON tomorrow, but some insiders know to arrive a little earlier to grab a barstool and stake out their territory. But have no fear, this is not a rowdy nor manic crowd, but quite the opposite; you'll meet some of the nicest, most hospitable and friendly folks you'd ever expect to encounter. Beer people are like that. I maintain that
Friday The Firkinteenth
is the most friendly, civilized beer festival on earth, hosted in a cozy neighborhood pub that was named by Esquire Magazine as one of America's Best Bars.
Find out for yourself tomorrow. I'll see you there at about 3.